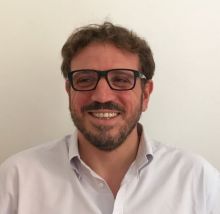 Mail
g.casasanta@isac.cnr.it
Research Activity
Giampietro Casasanta's research activity is mainly focused on planetary boundary layer meteorology and micrometeorology, urban heat island and heat waves, calibration and validation of meteorological and micrometeorological instruments, fractional calculus applied to radiative transfer and decay problems as well as acoustic and optical remote sensing, including the design and automation of new instruments and techniques.
From February to December 2018 he joined Serco Italia S.p.A. (c/o European Space Agency, ESA) as scientific processors and algorithms engineer to support ESA activities related to processors and algorithms, monitoring and calibration and validation of the EarthCARE satellite scientific products.
In 2015 he spent nine month in complete isolation with a skeleton crew of just 13 people overwintering at the Italian-French station Concordia, 1200 km far from the Antarctica shores, where he was in charge of the Italian glaciology and atmospheric remote sensing research programs.
He authored and co-authored several scientific publications on peer-reviewed journals, books and conference proceedings - see his Google Scholar profile for further information.