The global Earth-System model EC-Earth
EC-Earth is a global coupled climate model (Hazeleger et al., 2010, 2012, Doescher et al. 2020) that is being developed by a consortium of 27 European research institutes, in which ISAC-CNR is playing a central role for the development of the model. 
Ensemble simulations with EC-Earth2 (also by ISAC-CNR) contributed to the CMIP5[1] archive, and numerous studies performed with the EC-Earth model have appeared in peer-reviewed literature and have contributed to the fifth assessment report (AR5) of the IPCC (Intergovernmental Panel on Climate Change) (IPCC, 2013). EC-Earth2 was used in a wide range of studies from paleo-research to climate projections (e.g. Palazzi et al. 2013), including also seasonal (e.g. Prodhomme et al., 2016; Haarsma et al., 2019) and decadal forecasts  (e.g. Guemas et al., 2013; Hazeleger et al. 2103a; 2013b; Corti et al. 2015).
In preparation for CMIP6[2], a new version of EC-Earth, namely EC-Earth3 (Doescher et al. 2020), has been developed and several climate simulations have been performed and studied during the past five years by ISAC-CNR scientists (e.g. Davini et al. 2015a,b; Davini et al. 2017a,b; Palazzi et al, 2019; Yang et al. 2019; Meccia et al. 2020)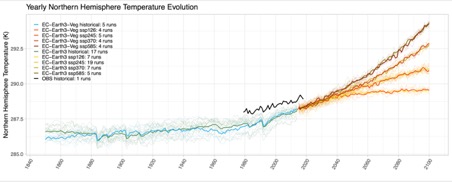 Fig 1. Historical and ScenarioMIP projections of average global surface temperatures in the EC-Earth CMIP6 ensemble
Recent CMIP6 scenario projections with EC-Earth3 produced by ISAC-CNR are available for a large set of variables at about 80 km resolution in the atmosphere 91 levels in the vertical, and about 1 degree in the ocean,  time resolutions starting from 3 hours, with two model versions:  EC-Earth3 and EC-Earth3-Veg (with dynamical vegetation). Present-day (historical) and future emission scenarios which have been explored so far range from significant reduction of emissions and sustainability  (SSP1-1.9, SSP1-2.6) through middle-of-the-road (SSP2-4.5) to more business-as-usual high-emission  scenarios (SSP3-7.0 and SSP5-8.5, 4xCO2). The data are hosted and distributed at CINECA through a dedicated ESGF (Earth System Grid Federation) data node and model diagnostic and performance metrics are available.
An additional archive of ensemble simulations with EC-Earth 3.1 at high horizontal resolution, up to 16 Km -consistent with HighResMIP  protocol (Haarsma et al. 2016, 2020) -  is available (SPHINX)  and is useful for evaluating the impact of model resolution on future projections of extremes.
EC-Earth is now focusing on the next generation of the model, EC-Earth4, which will be based on OpenIFS, allowing a more widespread adoption of the model, for training and research purposes, a faster update cycle and improved research feedbacks between EC-Earth and ECMWF.

Fig. 2: Changes in atmospheric blocking event frequency for EC-Earth3 (the ISAC-CNR ensemble member) between the historical period and a SSP5-8.5 projection.
References
Corti S., Tim Palmer, Magdalena Balmaseda, Antje Weisheimer, Sybren Drijfhout, Nick Dunstone, Wilco Hazeleger, Jürgen Kröger, Holger Pohlmann, Doug Smith, Jin-Song von Storch, and Bert Wouters, 2015: "Impact of Initial Conditions versus External Forcing in Decadal Climate Predictions: A Sensitivity Experiment."  J. Climate, 28, 4454–4470.doi: http://dx.doi.org/10.1175/JCLI-D-14-00671.1
Davini P., J. von Hardenberg and S. Corti, 2015: "Tropical origin for the impacts of the Atlantic Multidecadal Variability on the Euro-Atlantic climate." Env. Res. Let. doi:10.1088/1748-9326/10/9/094010
Davini, P., von Hardenberg, J., Filippi, L. and Provenzale, A. ( 2015), Impact of Greenland orography on the Atlantic Meridional Overturning Circulation. Geophys. Res. Lett., 42: 871– 879. doi: 10.1002/2014GL062668.
Davini, P., von Hardenberg, J., Corti, S., Christensen, H. M., Juricke, S., Subramanian, A., Watson, P. A. G., Weisheimer, A., and Palmer, T. N., 2017: Climate SPHINX: evaluating the impact of resolution and stochastic physics parameterisations in the EC-Earth global climate model, Geosci. Model Dev., 10, 1383-1402, doi:10.5194/gmd-10-1383-2017.
Davini P., S. Corti, F. D'Andrea, G. Riviere, J. von Hardenberg 2017, Improved winter European atmospheric blocking frequencies in high-resolution global climate simulations, J. Adv Model Earth Sy. 9, 2615–2634. https://doi.org/10.1002/2017MS001082.
Doescher et al. 2020, EC-Earth in CMIP6, to be submitted to GMD.
Guemas, V., S. Corti, J. García-Serrano, F. Doblas-Reyes, M. Balmaseda, and L. Magnusson, 2013: "The Indian Ocean: the region of highest skill worldwide in decadal climate prediction." J. Climate. 26, 726-739 doi:10.1175/JCLI-D-12-00049.1
Haarsma R.J. , M. Roberts, P. L. Vidale, C. A. Senior, A. Bellucci, Q. Bao, P. Chang, S. Corti, N. S. Fučkar, V. Guemas, J. von Hardenberg, W. Hazeleger, C. Kodama, T. Koenigk, L. R. Leung, J. Lu, J.-J. Luo, J. Mao, M. S. Mizielinsk, R. Mizuta, P. Nobre, M. Satoh, E. Scoccimarro, T. Semmler, J. Small, and J.-S. von Storch, 2016: High Resolution Model Intercomparison Project (HighResMIP v1.0) for CMIP6. Geosci. Model Dev., 9, 4185–4208, doi:10.5194/gmd-9-4185-2016
Haarsma, R.J., García-Serrano, J., Prodhomme, C. et al. Sensitivity of winter North Atlantic-European climate to resolved atmosphere and ocean dynamics. Sci Rep 9, 13358 (2019). https://doi.org/10.1038/s41598-019-49865-9
Haarsma, R, M Acosta, R Bakhshi, P-A Bretonnière, L-P Caron, M Castrillo, S Corti, P Davini, E Exarchou, F Fabiano, U Fladrich, R Fuentes, J García-Serrano, J von Hardenberg, T Koenigk, X Levine, V Meccia, T van Noije, G van den Oord, F Palmeiro, M Rodrigo, Y Ruprich-Robert, P Le Sager, E Tourigny, S Wang, M van Weele and K Wyser, 2020: HighResMIP versions of EC-Earth: EC-Earth3P and EC-Earth3P-HR. Description model performance, data handling and validation. 2019 Geosci. Model Dev., submitted. https://doi.org/10.5194/gmd-2019-350
Hazeleger W., B. Wouters, G.J. van Oldenborgh, S. Corti, T. Palmer, D. Smith, N. Dunstone, J. Kröger, H. Pohlmann, J.-S. von Storch 2013 "Predicting multi-year North Atlantic Ocean variability." J. Geophys. Res. Ocean – DOI:10.1002/jgrc.20117
Hazeleger, W., V. Guemas, B. Wouters, S.Corti, I. Andreu-Burillo F.J. Doblas-Reyes, K. Wyser, and M. Caian, 2013:  "Multiyear climate predictions using two initialisation strategies".  Geoph. Res. Lett.. DOI: 10.1002/grl.50355
Hazeleger, W., Severijns, C., Semmler, T., Ştefănescu, S., Yang, S., Wang, X., ... and Bougeault, P., 2010. EC-Earth: a seamless earth-system prediction approach in action. Bulletin of the American Meteorological Society, 91(10), 1357-1364.
Hazeleger, W., Wang, X., Severijns, C., Ştefănescu, S., Bintanja, R., Sterl, A., ... and Van Noije, T. 2012. EC-Earth 745 V2.2: description and validation of a new seamless earth system prediction model. Climate dynamics, 39(11), 2611-2629
IPCC, 2013: Climate Change 2013: The Physical Science Basis. Contribution of Working Group I to the Fifth Assessment Report of the Intergovernmental Panel on Climate Change [Stocker, T.F., D. Qin, G.-K. Plattner, M. 750 Tignor, S.K. Allen, J. Boschung, A. Nauels, Y. Xia, V. Bex and P.M. Midgley (eds.)]. Cambridge University Press, Cambridge, United Kingdom and New York, NY, USA, 1535 pp, doi:10.1017/CBO9781107415324, 2013.
Meccia, V. L., Fabiano, F., Davini P., & Corti S. 2020. Stochastic parameterizations and the climate response to external forcing: An experiment with EC‐Earth. Geophysical Research Letters, 47, e2019GL085951. https://doi.org/10.1029/2019GL085951
Palazzi, E., von Hardenberg, J., and Provenzale, A. ( 2013), Precipitation in the Hindu‐Kush Karakoram Himalaya: Observations and future scenarios, J. Geophys. Res. Atmos., 118, 85– 100, doi: 10.1029/2012JD018697.
Palazzi, E., Mortarini, L., Terzago, S. et al. 2019 Elevation-dependent warming in global climate model simulations at high spatial resolution. Clim Dyn 52, 2685–2702. https://doi.org/10.1007/s00382-018-4287-z
Prodhomme, C., L. Batté, F. Massonnet, P. Davini, O. Bellprat, V. Guemas, and F.J. Doblas-Reyes, 2016: Benefits of Increasing the Model Resolution for the Seasonal Forecast Quality in EC-Earth. J. Climate, 29, 9141–9162, https://doi.org/10.1175/JCLI-D-16-0117.1
Yang, C., Christensen, H.M., Corti S., von Hardenberg J. and Davini P., 2019. The impact of stochastic physics on the El Niño Southern Oscillation in the EC-Earth coupled model Clim Dyn 53: 2843. https://doi.org/10.1007/s00382-019-04660-0
[1] https://www.wcrp-climate.org/wgcm-cmip/wgcm-cmip5
[2] https://www.wcrp-climate.org/wgcm-cmip/wgcm-cmip6