You are here
Clouds And PrEcipitation Physics
Research Activity:
The Research Group on Clouds and Precipitation Physics (CAPE) is established in 2014 as a way of channeling the strengths and capabilities of CNR-ISAC in the field of the physics of clouds processes and precipitation formation. It represents a response to national and international science challenges on clouds and precipitation in meteorology and climate. The team members realize the importance of organized team work and thus make available their long time experience in observing (from radar, satellite and groud-based systems) and modeling precipitating systems.
The Group aims at contributing to a common physical understanding of cloud dynamical and microphysical processes, which naturally reflects into common projects. Research topics concern the advancement of knowledge on cloud physics in view of applications in weather prediction, climate evolution, civil protection, and clean energy production from solar and aeolic sources. The Group has a strong international perspective as partner of international projects of the World Meteorological Organization (WMO), chiefly the Global Energy and Water Exchanges Project (GEWEX), and collaborates with European and international Space Agencies (CONAE, ESA, EUMETSAT, JAXA, NASA, NOAA) and high-profile Universities and Research Centers (among others, ECMWF, NCAR).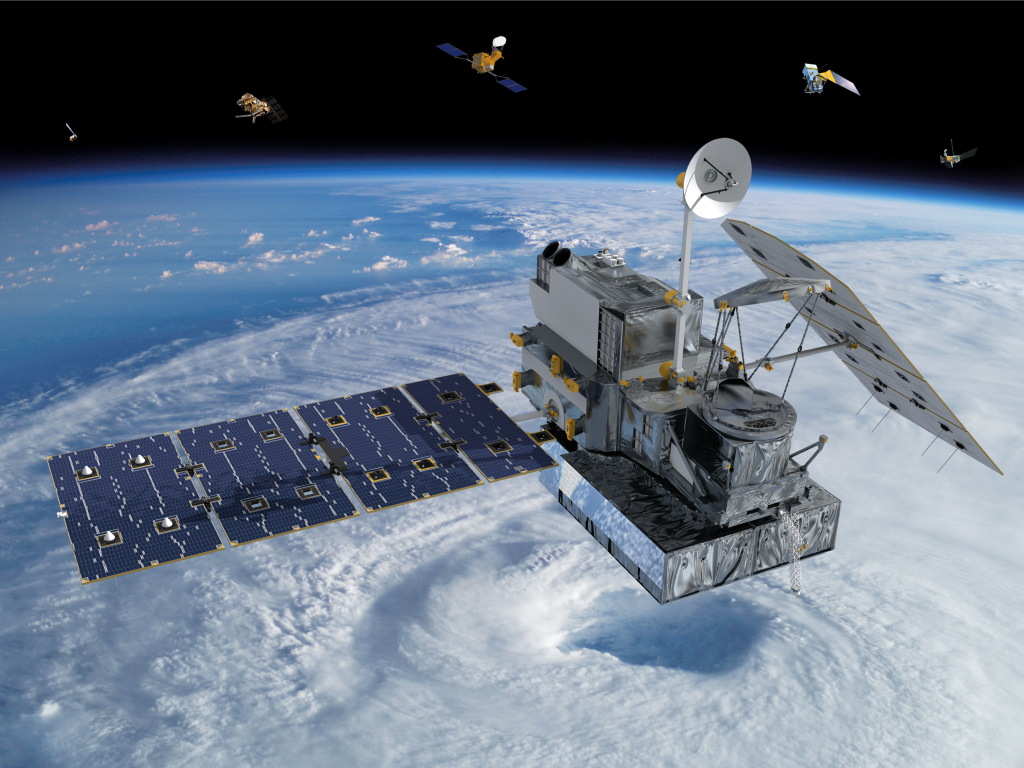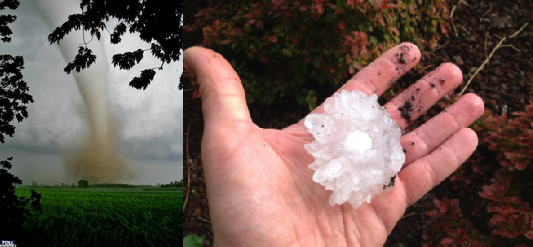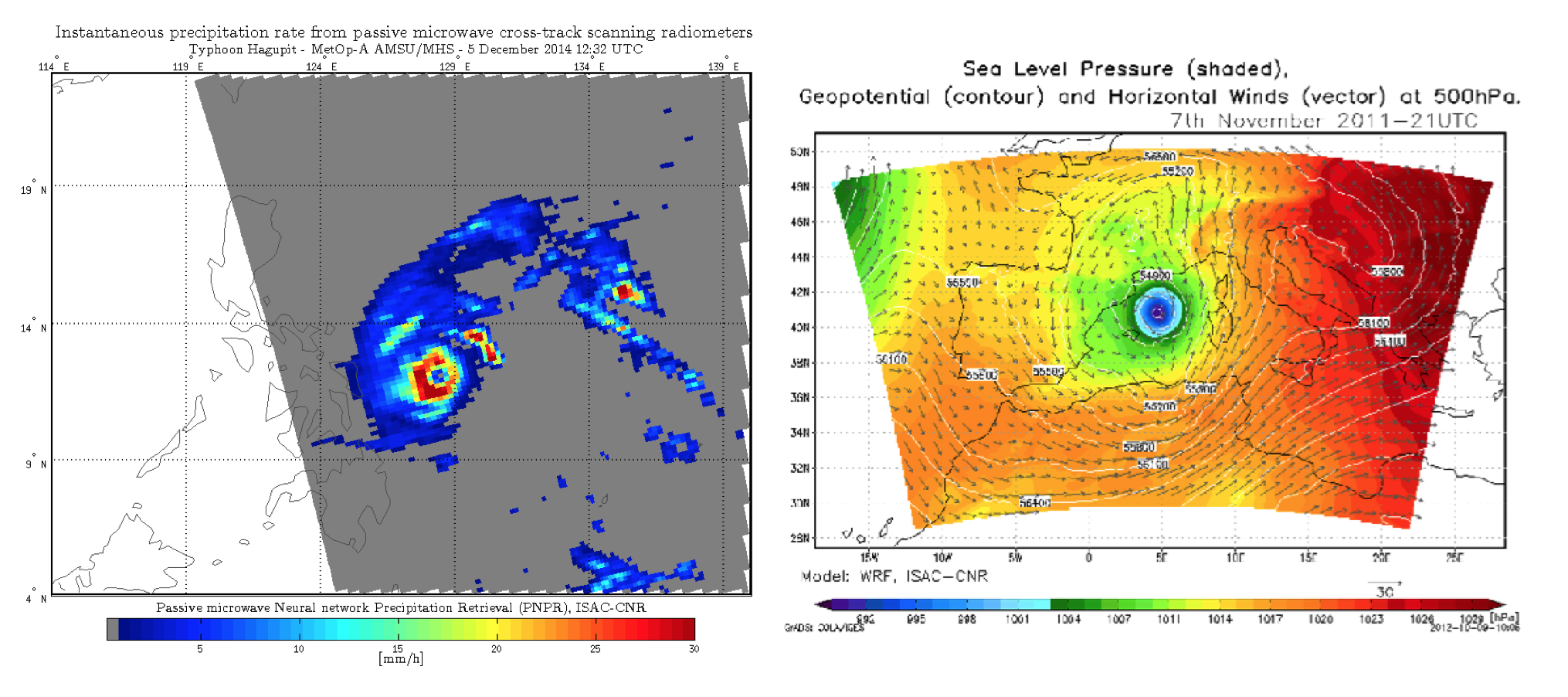 Objectives:
Clouds, their structure, space-time distribution and type represent a key unknown for the correct understanding of the mechanisms of the meteo-climatic system of our planet. Cloud physics has unveiled to a large extent the cloud's microphysical structure, while the introduction of remote sensing from radar and satellite has considerably widened the scientific perspective by shifting research from the laboratory to the real clouds in the atmosphere. At the same time, cloud numerical modeling has attained important results in the representation and parameterization of cloud processes in the models at all scales. Research activities at the highest level are part of the general scientific framework of the water cycle and are thus interdisciplinary in their own right. The Clouds and Precipitation Physics (CAPE) Group is composed by scientists who work on improving the existing knowledge of cloud physics and liquid and solid precipitation. In particular, CAPE focuses on the following fundamental scientific objectives: • physical structure of warm and mixed phase clouds in terms of their water and ice content; • microphysical properties of the hydrometeors, their formation and evolution within the cloud, and physical properties of the cloud condensation nuclei and ice nuclei; • liquid and solid precipitation formation; • ground based and in-cloud precipitation measurement; • interaction of clouds with complex orography and effects of the orography on precipitation intensity; • dynamic and microphysical triggering of convection in the atmospheric boundary layer; • cloud electrification mechanisms, lightning processes and terrestrial gamma-ray flashes generation; • wind field structure in various conditions (storms, fronts, MCS, …); • structure of convective storms; • large eddy simulation (LES) of gravity currents and application to thunderstorm outflows and sea/land breezes; • structure of tropical like cyclones (TLC) over the Mediterranean basin; • physical structure of atmospheric extreme events (TLC, MCS, tornado,…); • air-sea interactions, surface fluxes and atmosphere-ocean-wave coupled modeling; • meteorologically driven risks with hydrogeological effects at the ground; • regional climatology of clouds and precipitation (flood and drought); • estimates and forecasts of solar radiation fluxes in the visible from satellite sensors and their validation with ground based instruments; • meteorological observations and modeling applied to the production of energy from solar and wind sources; • meteorological observations and modeling for hydrological applications at urban and basin scales; • meteorological forecasting using mesoscale and local scale models with particular emphasis on precipitation. The wide spectrum of research topics, with clear repercussions on scientific knowledge and on applications to monitoring and meteo-climatic forecasting, requires the adoption of adequate observational and modeling instruments. The CAPE Group focuses on satellite and radar meteorology, numerical modeling, cloud physics, hydrology, and solar radiation. The observational tools include: two real time satellite receiving stations, a C-band polarimetric radar (Roma), two C-band Doppler radars (Puglia), a Ka-band (35 GHz) mobile cloud radar, a Ku-band radar for snow cover and air-sea interface studies, several sensors for ground based microphysical observations of precipitation. The CAPE scientists have also a long time experience in the organization of field measurement campaigns. Numerical modeling concentrates on the simulation of cloud processes at cloud scale and mesoscale and of dynamical processes within the atmospheric boundary layer (ABL) for the investigation of the triggering processes of convection and for wind shear studies (LES). CAPE participates to the lightning detection network LINET and manages the radiometric network ESR/SKYNET for the estimation of aerosol and clouds optical thickness, and of water vapor columnar content in clear sky conditions. A modeling component is active to simulate precipitation systems and processes at the mesoscale by means of the Weather Research and Forecasting (WRF) model in cooperation with the National Center for Atmospheric Research (NCAR), and of the Regional Atmospheric Modeling System (RAMS). The Local Analysis and Prediction System (LAPS) developed by NOAA's Earth System Research Laboratory (ESRL) is used and modified for assimilation and nowcasting exercises in several projects. The Realistic Large-Eddy Simulation (RLES) model from NCAR represents the backbone of the efforts for the simulation of wind fields and the inception of convention within the boundary layer. Finally, the model WRF-CHEM is being applied to simulations of aerosol-cloud interactions during relevant Sahara dust outbreaks and volcanic eruptions. CAPE research topics are linked to those of the Global Energy and Water Exchanges (GEWEX) Project thus contributing to the European and international research on the water cycle. The Group participates to the most relevant satellite missions for clouds and precipitation, above all the Global Precipitation Measurement (GPM) mission, which was successfully launched on 27 February 2014. EUMETSAT and ESA are also considered of primary interest and CAPE scientists are members of Scientific Advisory Groups (SAG) in this context. The ground instrumentation of the Group are relevant for the GPM validation program. At the same time, they will be used for observational campaigns for regional climate, such as those of the Atmospheric Radiation Measurement (ARM, Department of Energy, USA) program.
Current funded projects and activities:
Permanent Staff:
| | | | | | |
| --- | --- | --- | --- | --- | --- |
| | | | | | |
| | | | | | |
| | | | | | |
| | | | | | |
Temporary Staff:
| | | | | | |
| --- | --- | --- | --- | --- | --- |
| | | | | | |
| | | | | | |
Associate staff:
Current students and recent graduates:
2019
Dottorato in geofisica ciclo XXXIV

Università degli Studi di Bologna

2019

Sviluppo di un algoritmo per la stima della precipitazione nevosa per il radiometro a microonde ATMS

Dipartimento di Ingegneria Civile, Edile e Ambientale

2019
2018
Analysis of precipitation of ground observations over the Antarctic coast

Università degli Studi di Bologna

2018

Analisi multisensore dell'evento alluvionale di Livorno nell'era della missione GPM

Dipartimento di Fisica, Università di Roma Tor Vergata

2018

Studio di sensibilità dei sensori MHS,ATMS,GMI,SSMIS e sviluppo di un algoritmo prototipale per il retrieval del vapore acqueo

Università degli Studi di Bologna

2018
2017
Validazione di prodotti di precipitazione da satellite e sviluppo di algoritmi per la stima di precipitazione sul Brasile

Visiting Ph.D. Student from CPTEC-INPE (Brazil)

2017
2016
Studio dell'inquinamento secondario su scala regionale: influenza delle condizioni meteorologiche

Università Politecnica delle Marche

2016

Utilizzo dei dati di fulminazione per applicazioni in ambito operativo per la previsione e prevenzione a brevissimo termine degli eventi intensi ad essi collegati.

Università degli Studi di Ferrara

2016

Modellistica e simulazioni di aerosol marino nel bacino Mediterraneo

Università Politecnica delle Marche

2016

Il lavoro di tesi riguarda lo studio dettagliato di un ciclone di tipo tropicale ( tropical like cyclone, TLC) vericatosi nel Canale di Sicilia nel novembre 2014, realizzato attraverso un'analisi modellistica eettuata con i modelli BOLAM e MOLOCH (sviluppati presso il CNR-ISAC di Bologna) e il confronto con osservazioni.

University of Bologna

2016

Valutazione dei modelli di emissione di Saharan dust

Università Politecnica delle Marche

2016

Studio dell'inquinamento secondario su scala regionale: influenza dell'uso del suolo

Università Politecnica delle Marche

2016

ANALISI DI UN'INTENSA INTRUSIONE DI POLVERI SAHARIANE SUL BACINO DEL MEDITERRANEO

Università Politecnica delle Marche

2016

Simulazione e assimilazione di dati di fulminazione

Università di Roma Tor Vergata

2016

Studio dell'inquinamento atmosferico su scala regionale: implementazione del modello WRF-Chem

Università Politecnica delle Marche

2016

Studio del trasporto di ceneri vulcaniche e biossido di zolfo causati da un'eruzione dell'Etna

Università Politecnica delle Marche

2016

Il lavoro di questa tesi è focalizzato sulla valutazione della sensibilità delle microonde rispetto a differenti idrometeore per le frequenze a 89 GHz e 150 GHz e nella banda di assorbimento del vapor d'acqua a 183.31 GHz.

University of Bologna

2016

Studio dell'inquinamento atmosferico su scala regionale: influenza delle emissioni biogeniche

Università Politecnica delle Marche

2016

Ottimizzazione dei parametri delle funzioni di rilascio di sea spray nel Bacino Mediterraneo

Università Politecnica delle Marche

2016

Studio della capacità della cellulosa di agire come nucleante del ghiaccio in atmosfera.

University of Bologna

2016
2015
Analisi satellitare e modellistica di cicloni con caratteristiche tropicali nel Mediterraneo

Università di Bologna

2015

L'evento tornadico del maggio 2013 sull'Emilia

Università degli Studi di Bologna

2015

Metodologie di classificazione multi-spettrale degli scenari nuvolosi

Università di Bologna

2015

Characterisation and calibration of optical counters for airborne particulate matter

Università degli Studi di Bologna

2015
2014
Sviluppo di celle temporalesche e assistenza al volo

Università di Bologna

2014

Precipitazioni nevose in Emilia-Romagna: L'evento intenso del febbraio 2012

Università di Bologna

2014

La struttura dei medicane

Università di Bologna

2014

I Medicane – Cicloni di tipo tropicale

Università di Bologna

2014

L'attività elettrica nei cicloni tropicali e di tipo tropicale

Università di Bologna

2014

Analysis of the characteristics of a Tropical-Like Cyclone in the Mediterranean Sea

Ewha Womans University, Seoul, Korea

2014

Analisi di tre eventi di precipitazione intensa su Liguria e Calabria

Università di Bologna

2014

Effetto dell''accoppiamento di un modello meteo con modelli di circolazione oceanica, di onde e di transporto dei sedimenti in un caso studio di irruzione fredda persistente nel nord Adriatico.

Università degli Studi di Napoli "Parthenope"

2014

I temporali autorigeneranti: Gli eventi di Genova del 2011 e del 2014 a confronto

Università di Bologna

2014
2013
I cicloni di tipo tropicale sul Mediterraneo

Università di Bologna

2013

La classificazione delle nubi tra passato, presente e futuro

Università di Bologna

2013

Analisi di un ciclone con caratteristiche tropicali nel Mediterraneo

Università degli Studi di Torino

2013

Temporali convettivi estremi e pattern sinottici

Università di Bologna

2013

Analisi satellitare di un ciclone con caratteristiche tropicali nel Mediterraneo

Università di Bologna

2013

Misura della copertura nevosa in ambiente montano nel nord Italia

Università di Bologna

2013

Analisi di dati del radar polarimetro di S. Pietro Capofiume e comparazione con i dati del pluviometro in banda X Pludix per sistemi precipitanti di varia natura.

Università di Bologna

2013

Identificazione delle nubi mediante sensori satellitari nel VIS-NIR-IR

Università di Bologna

2013

La struttura elettrica delle nubi temporalesche

Università di Bologna

2013

Eventi di precipitazione intensa sulla Sardegna, 1950-1999

Università di Bologna

2013

Struttura nuvolosa del temporale

Università di Bologna

2013
2012
Analisi di cicloni di tipo tropicale usando simulazioni numeriche e dati da satellite

Università di Bologna

2012

Identificazione e localizzazione dei fulmini tramite sistemi automatici

Università di Bologna

2012

Propagazione del suono in atmosfera e relativi effetti sull'uomo e l'ambiente

Università di Bologna

2012

Identificazione delle nubi precipitanti mediante l'uso dei canali spettrali del Meteosat Second Generation

Università di Bologna

2012

Gli indici di instabilità atmosferica da satellite: Uno strumento per il nowcasting

Università di Bologna

2012

La concentrazione di PM2.5 a Bologna e provincia: Analisi annuale da sett. 2009 ad ago. 2010

Università di Bologna

2012

Analisi di eventi di precipitazione intensa collegati a temporali auto-rigeneranti

Università di Bologna

2012
2011
Osservazione delle perturbazioni chimiche indotte da sprite in alta atmosfera

Università di Bologna

2011

Analisi della supercella del 12 agosto 2010

Università di Bologna

2011
2010
Analisi multisensore di temporali sull'Emilia-Romagna

Università di Bologna

2010

Utilizzo delle microonde ad alta frequenza per la stima della precipitazione

Università di Bologna

2010

Inseminazione delle nubi: Stato della ricerca e prospettive operative

Università di Bologna

2010

Stima della precipitazione nevosa da satellite

Università di Bologna

2010

Utilizzo di dati saltellitari nell'analisi di eventi di precipitazione intensa

Università di Bologna

2010

Caratterizzazione delle nubi e formazione delle idrometeore mediante sensori satellitari di ultima generazione

Università di Bologna

2010

Analisi della variabilità della precipitazione mensile globale del dataset del Global Precipitation Climatology Project (GPCP) versione 2.1.

Università di Bologna

2010

Prima validazione di una maschera di copertura nevosa nelle microonde ad alta frequenza

Università di Bologna

2010

La previsione di eventi meteorologici significativi e la sua percezione da parte dell'utilizzatore finale

Università di Bologna

2010

Sviluppo di un algoritmo per la stima della precipitazione nevosa nelle microonde ad alta frequenza da satellite. Analisi della calibrazione mediante i dati della rete radar NIMROD.

Università di Bologna

2010
2009
Assimilazione di dati da radar meteorologico nel modello alla mesoscala COSMO in collaborazione con Meteo Swiss.

Università di Bologna

2009

Misura della precipitazione da satellite mediante un nuovo algoritmo a 183 GHz, calibrazione e prima validazione.

Università di Bologna

2009
2008
Numerical modeling of the role of the West African Monsoon in the tropical to mid-latitudes climate system.

Università di Bologna

2008

Analisi della climatologia e variabilità interannuale della neve sull'Appennino Emiliano-Romagnolo mediante i dati delle stazioni di ARPA-SIMC.

Università di Bologna

2008
2007
Analysis of the cold cloud climatology over Europe and the Mediterranean during the warm season from Meteosat IR imagery

Università di Bologna

2007
2002
Validation of a satellite-based rainfall estimation algorithm using reengage and radar measurements

Università di Bologna

2002
1999
Clouds, aerosol and minor gases satellite remote sensing: monitoring and modeling using passive radiometers (Meteosat and GOME).

Universidade de Evora

1999
Additional Information:
International Precipitation Working Group (IPWG) http://ipwg.isac.cnr.it/