You are here
Climate hotspots: atmospheric observations and technological development
Research Activity:
The overall objective of the research group is aimed primarily to study Climate Hot Spots through the characterization of the chemical and physical composition of Earth's atmosphere in order to define the radiation and energy balance in remote areas and on different temporal scales; to study the dynamical and radiative processes basing on the observational activities carried out in these regions, including Arctic, Antarctica, Himalayas, Mediterranean basin, Alps and Apennines. Moreover, in the framework of the research activities carried out in remote areas, we develop new technologies and research infrastructures. In this context are included also research activities related to the study of renewable energy. Long-term purposes are:
Study of the variability of climate-altering and pollutant atmospheric compounds and their trends in background conditions
Study of transport processes at different temporal scales, focusing on the so-called 'Hot-Spot' regions, such as the mountain areas, Mediterranean basin, monsoon tropical areas.
Development of an infrastructure system for climate and environmental monitoring, based on the integration of different kinds of observational techniques (in-situ, remote sensing), focusing on polar areas (Arctic and Antarctica), high-altitude regions (Alps and Apennines) and the Mediterranean basin (Po valley, coastal and insular areas of Southern Italy, Saharan region).
Study of dynamical, radiative and physico- chemical processes at air-sea-land-snow-ice interfaces and on the vertical atmospheric column on polar regions.
Development of technological systems for atmospheric composition observations.
Development of solutions for design, optimization, characterization and structures evaluation for renewable energy.
Implement new concepts for environmental-climatic monitoring.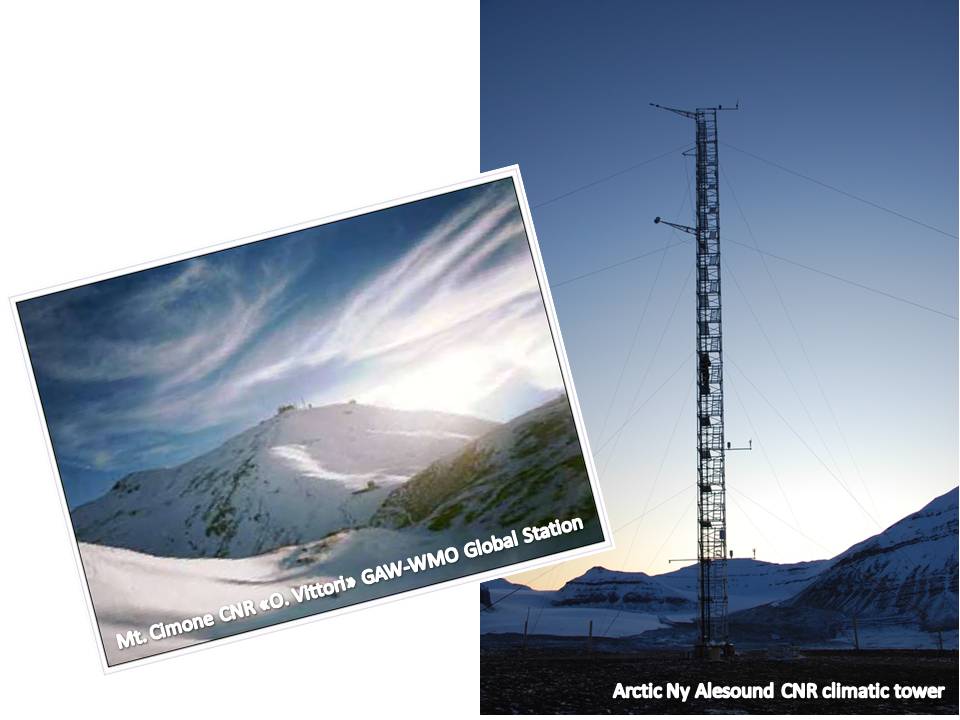 Objectives:
To predict future scenarios, the knowledge of the actual climate system, which is strongly influenced by pollutant and climate-changing compounds mainly due to anthropogenic activities, requires an accurate characterization of the variability of such compounds, as well as a deep understanding of the processes that determine and regulate ongoing changes. In regions where the climate change is amplified by particular processes and conditions, such as the Polar regions or remote marine and mountain areas, the monitoring of the Earth-atmosphere system and the study of causes/interactions between the different components becomes extremely important. For these reasons, and from our experience, our scientific attention is mainly devoted to the study of climate 'Hot-Spots', by supporting and promoting observational activities in areas highly representative of the atmospheric background conditions, such as Arctic, Antarctica, Himalayas and Karakorum, the Mediterranean basin and tropical areas. These activities are well supported by the installation of appropriate infrastructures and by the development of innovative technologies which represent a "core business" of the research activity presented here. In the framework of the climatic 'Hot-Spots', the characterization of the dynamical and radiative processes at different interfaces and in the atmospheric vertical column will allow the study of radiative and energy balances, as well as the direct effects of aerosols and clouds. At low and middle latitudes, these radiative balances are highly influenced by the presence in the atmosphere of large amounts of SLCF/P (Short-Lived Climate Forcers/Pollutants) and LLCF/P (Long-Lived Climate Forcers/Pollutants), while at high latitudes the main effects are due to clouds and air-sea-land-snow-ice interface conditions. In particular (as highlighted by UNEP in the framework of CCAC – The Climate and Clean Air Coalition – and by the WMO in the framework of the Council Panel of Expert on Polar Observations, Research and Services), ozone, black carbon and methane play important roles both as being climate forcers acting at regional scales, both as agents adversely affecting air quality, human health and the environment. Their mitigation could lead to the achievement of benefits not only related to climate protection, but also in terms of air quality, human health and food security. The general aim of this research group is mainly devoted to the characterization of the chemical-physical composition of the Earth and extra-terrestrial atmospheres, to the definition of the radiation balance and energy in remote areas and on different temporal scales, and to the study of dynamical and radiative processes basing on the observational activities carried out in these regions, including Arctic, Antarctica, Himalayas, Alps and Apennines. Moreover, in the framework of the research activities carried out in remote areas, we develop new technologies and support research infrastructures, also related with the study of renewable energy, performed, as well as the development of moving platforms which need the implementation of new devices and advanced instrumentation. Such activities will allow to strength the scientific knowledge related to processes regulating climate variability, to support stakeholders by providing information useful for defining action measures and for promoting appropriate mitigation programs. The acquisition of information concerning atmospheric composition and radiometric parameters in different 'Hot-Spots' regions will maintain the participation to national and international programs and datacenter (ABC- ADAC, BSRN, EBAS, GAW-WDCGG-WDCA, MACC-2, WMO-SDS-WAS, SKYNET, NEXT-DATA, …). Data obtained from observational Earth activities are also useful for the evaluation and calibration of measurements obtained through satellite sensors, as well as to support climate modelling activities and numerical simulation, also in the framework of projects presented by other research groups. The infrastructural development is also important for carrying out activities related to renewable energy (wind and solar power), with the aim of both reducing the environmental impact and favouring a sustainable development, in particular in sensitive - and often unpolluted, remote regions. The experience already achieved in this framework, will allow to define and implement innovative methodologies, to develop or complement novel platform measurements: a system of active and passive remote-sensing, aircrafts, UAV and drones, long duration balloons, automatic/unmanned stations, wind energy & inflow conditions-related systems, … The activities described here will represent the key point for supporting the ISAC participation to national and international research projects, by favouring appropriate networking actions, as well as for promoting divulgation and teaching activities, with the aim of creating a link between science, society and school. Long-term purposes:
1. Atmospheric composition and climate-changing compound trend analysis in background conditions, with special attention to 'Hot Spots': mountain regions, Mediterranean basin, monsoon and tropical areas
2. Study of atmospheric composition and climate-changing compound variability in background conditions, study of transport processes at different temporal scales, with special attention to 'Hot-Spots': mountain areas, Mediterranean basin, monsoon and tropical areas
3. Development of infrastructures for the climate-environmental monitoring based on the implementation of different observational techniques (in-situ, remote sensing), with special attention to: Polar and high-altitude regions, Mediterranean basin
4. Study of dynamical, radiative and chemical-physical processes at air-sea-land-snow-ice interfaces and in the vertical atmospheric column in Polar Regions
5. Technological development of observational systems
6. Development of integrated solutions for the design, optimization, characterization and evaluation of infrastructures for renewable energy
7. New concepts for climatic-environmental integrated monitoring
Current funded projects and activities:
Permanent Staff:
| | | | | | |
| --- | --- | --- | --- | --- | --- |
| | | | | | |
| | | | | | |
| | | | | | |
Temporary Staff:
| | | | | | |
| --- | --- | --- | --- | --- | --- |
| | INCARICO DI COLLABORAZIONE | | | | |
| | | | | | |
Associate staff:
| | | | | | |
| --- | --- | --- | --- | --- | --- |
| | | | | | |
Current students and recent graduates:
2018
Atmospheric aerosol optical properties, accuracy of aerosol light absorption, climate, air quality, ACTRIS

Università di Bologna

2018

Un'applicazione del calcolo numerico per il riconoscimento automatico del fenomeno di brezza

Università della Calabria

2018
2016
2015
2014
Caratterizzazione di Polar Stratospheric Clouds (PSC) Antartiche tramite osservazioni lidar ground-based e confronto con osservazioni lidar satellitari e output di modelli climatici accoppiati a modelli di chimica (CCM)

Università degli Studi di Roma "La Sapienza"

2014